Diversitec Testing & Repair Services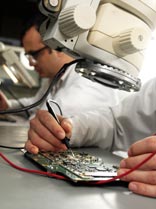 Repair Services
We provide multi-vendor network maintenance, including screening, repair, and testing, through Diversitec. We make it possible for our customers to have one partner for their managed repair needs through our network of OEM partners and repair vendors.
We Offer Solutions to extend the life cycles of your networks
We support:
- Nokia
- Cisco
- Juniper
- Valere/Eltek/Delta
- Alcatel-Lucent
- GE/ABB
- Emerson/Vertiv
- Fujitsu
- Ciena
- and many more!
At Diversitec, we strive to meet or exceed your daily business performance expectations. Contact us and you'll receive what you need and exceptional customer service.