Diversitec is a designated Eltek power electronics premier DC power integrator for the United States; only one of five companies to receive this designation.
In 2003, Diversitec became one of only a handful of US authorized distributors for Valere Power. In 2007, Valere Power merged with Eltek to create Eltek Valere Power. Subsequently, Eltek dropped the Valere namesake and is now marketed worldwide as simply Eltek, A Delta Group Company.
Coupling Eltek's industry strength along with Diversitec's commitment to total satisfaction provides our customers with exceptional solutions.
Total Solution Offerings
As a world leader in providing DC Power Solutions, Eltek supports various technology solutions and there are literally hundreds of possible variations to meet your power system needs. These solutions range from traditional power systems to the latest industry technology – High Efficiency Rectifiers. Other unique offerings such as The WallBox help Eltek maintain their leadership position in the DC power industry.
About Eltek
Eltek is a world leader in high-efficiency power electronics and energy conversion. As a global corporation, Eltek has customers in more than 100 countries across a variety of industries including telecom, rail and infrastructure, power generation, power distribution and  solar energy. Eltek is a power pioneer with over 40 years experience helping customers save energy and money while reducing their environmental impact. Eltek is headquartered in Drammen, Norway and became part of Delta Group in 2015, a leading power and thermal management provider. Visit Eltek for more information.
Eltek Systems by Diversitec

Eltek Technologies & Systems
Together, Diversitec and Eltek can configure your system, meeting all of your needs! Below see some of Eltek's most popular systems. Whether in a cabinet, rack or frame, our engineering team will build your Eltek System to meet or exceed your specifications every time!.
Click here for an overview on the Eltek DC Power Systems lineup, or on any of system pictures below to get a PDF of that system's specifications.
---

The Micropack - ideal for small-scale power requirements
Key Features
20A max capacity
48V, 24V and 12V versions available
Requires 4RU of rack space, 6.5" max depth
DIN rail or 19" rack mountable versions
System uses compact controller
Rectifiers can be used stand-alone or in-system
Plug-in style breakers 2A - 15A
Can be configured for battery and load distribution, bulk feed option
Microshelf available with optional fan tray
---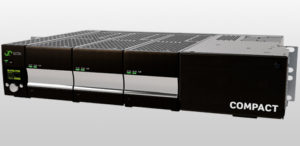 Compact Power Systems – Full power range of features
Key Features – Compact DC Power System
Complete system with monitoring and distribution in 2U
Vertical airflow ideal for cabinet applications
Extended temperature operation for the harshest locations
Multiple distribution options
Plus-in breakers up to 100A
Optional LVBD
WEB/SNMP controller
2RU, 19" or 23" rack-mount
---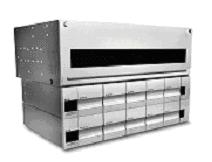 Integrated DC Power Systems – Full power range of features
Key Features - Integrated DC Power Systems
High capacity system (up to 25kW) with monitoring and advanced distribution
Vertical airflow ideal for cabinet applications
Extended temperature operation for the harshest locations
Multiple distribution options
Plug-in breakers up to 250A
Optional LVBD
WEB/SNMP controller
19" or 23" rack-mount
---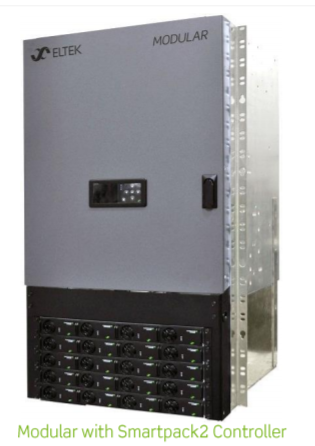 Modular DC Power Systems- fully configurable building-block system design
Key Features
Wireless base stations - Up to 1,800A in a half-height rack and up to 2,400A in a full-height rack configuration. This system will power 2G, 2.5G, 3G, GSM, GPRS, and PCS network build outs
Metropolitan and wide area networks - with its high power density and reliability is an ideal power system for compact spaced, critical network sites
Modular building block design - can be customized in a wide variety of combinations to meet the needs of your applications, ranging in size from hundreds to thousands of amps
More room for revenue equipment - Up to 1,800 amps of rectifiers in a half-height rack, up to 2,400 amps in a full-height rack, 35% less waste heat, and 80 distribution points
Flexibility to adapt - Highly configurable and powerful system design with simple installation and ease of use characteristics. Minimized cable congestion, simplified wiring, for error-proof installations
More productive workforce - Powerful, sophisticated remote management interface through Ethernet or SNMP
Better quality of service - 92% efficiency, 350,000 hours MTBF, and Advanced Battery Management
---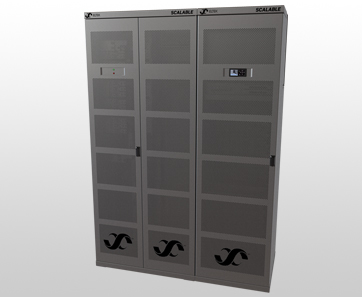 Scalable DC Power Systems - large-scale, high-power applications
Key Features
Scalable up to 10,000A
208 or 480VAC 48V, three phase rectifiers available
Rectifier bay houses up to 15 Powerpack rectifiers
Configurable distribution options
Perfect for central office applications
Ultra high-density rectifier design
Interconnectable system bus
Advanced digital control and communication
---
DC Power & Batteries - Resources
Are you looking for more detailed information? Check our Resources page for our DC Power & Batteries (brochures, specs, dozens of PDF files available for download, etc.)...


At Diversitec, we strive to meet or exceed your daily business performance expectations. Contact us and you'll receive what you need and exceptional customer service.