Diversitec Testing & Repair Services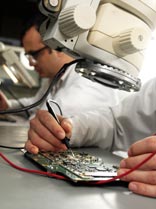 When replacement of older equipment is not an option, it's critical to have a network of reliable, proven and tested Repair & Service Providers at your disposal. Over the years Diversitec has developed an onsite, fully staffed lab that is used for testing the technologies we sell and support. And for those technologies we don't sell/support, a network of leading service providers is available through Diversitec to meet your equipment service requirements. You'll get cost effective and timely service from our network.
At Diversitec, we strive to meet or exceed your daily business performance expectations. Contact us and you'll receive what you need and exceptional customer service.