Diversitec E-Recycling
Recycling
Diversitec provides recycling and disposal solutions for companies with technology investments that have reached the end of their service life or no longer meet their requirements. Diversitec Co. has assisted businesses from Fortune 500 companies to small start-ups with acquiring or liquidating telecommunications, data networking, and critical power systems equipment. Diversitec is a full-scale asset recovery company with domestic and international sources to help with your technology buying and selling needs. With Diversitec, you can make an environmental statement that aligns with your bottom line.
E-Waste
Diversitec can ensure that obsolete or unwanted electronics are disposed of in an eco-friendly, secure manner. As a result of our expertise and proven approach to electronic recycling, we eliminate the risk to our customers and eliminate any potential liability.
Data Handling and destruction: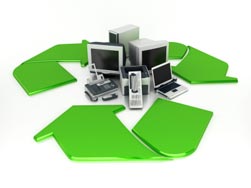 Diversitec recognizes the importance of protecting its customers' valuable and proprietary information. Diversitec shreds materials such as hard drives and discs to reduce the particle size to less than 12 inches in order to ensure that all data is unrecoverable and destroyed properly. State-of-the-art alarm systems, keycard access, high-resolution surveillance cameras, metal detectors, and full-time security officers protect your materials inside the facility. Diversitec complies with DOD 5220.22-M and NIST SP 800-88 standards.
At Diversitec, we strive to meet or exceed your daily business performance expectations. Contact us and you'll receive what you need and exceptional customer service.