Diversitec E-Recycling
Our Recycling Philosophy
E-recycling is an important part of Diversitec's "environmentally neutral" business philosophy. We are a company built on the concept of extending telecom equipment life cycles and helping you maximize your network infrastructure investments. Our "environmentally neutral" practices include:
Styrofoam products are never used in any of our packing materials.
All of our paper and cardboard products are recycled
All "end of life" telecom electronics are recycled
Only certified, experienced vendors who can provide Certificates of Destruction are used for our recycling activities. Also, we have verified that our recycling vendors maintain the appropriate OSHA certifications for the disassembly and recycling of electronic components and equipment (additional information pertaining to certification is available upon request).
Our Recycling Services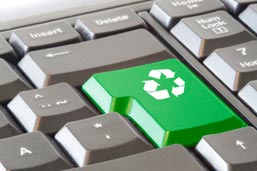 De-installation of equipment is one of our specialties, and there are several ways to dispose of older, aged equipment. We not only remove the old items, but we'll also return them to our facility for testing and processing. The entire de-installation and equipment processing effort is meant to maximize the 'Return on Investment" you made in the old equipment. Several methods are used to maximize your return:
Consignment
Outright Equipment Purchase
Equipment Scrapping
Revenue Sharing
Open Market Bidding
Full Lot Purchasing
Whether you need new, refurbished or manufacturer discontinued equipment, it is more than likely that we've got what you need. Individual components? Fully populated systems? Our quality inspection and testing procedures ensure you receive top-quality telecommunication and related products that fit your budget. Please contact us if you would like more information about our products or services.
At Diversitec, we strive to meet or exceed your daily business performance expectations. Contact us and you'll receive what you need and exceptional customer service.