At Diversitec, we strive to meet or exceed your daily business performance expectations. Contact us and you'll receive batteries ready for immediate installation – voltage and battery test dates are noted on the top of every battery.
Diversitec Batteries
Battery Systems and Solutions
No power system is safe from Mother Nature… that's why battery backup systems are critical to your system users. With the explosive growth within the communications field, maintenance of your infrastructure and backup systems is critical. In order to help fulfill your needs with batteries, Diversitec supports a full line and a wide range of batteries for our customer base.
Deka Unigy, NorthStar, C&D & Haze Battery Systems
Batteries are maintained, trickle charged and safely packed and shipped to national locations daily. Batteries you receive will be ready for immediate installation – voltage and battery test dates are noted on the top of every battery. We also offer virtual warehousing services for batteries. These services include full shipping, receiving, storage and charging capabilities.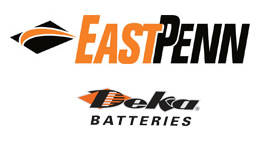 Deka Unigy
DBA as The East Penn Manufacturing Company, started in 1946 in Bowers, PA
Have grown to facilities on over 490 acres of land, & over 2 million square feet of space
Incorporates a Closed Loop Water Purification Cycle to address environmental concerns
East Penn Manufacturing is the largest single site battery manufacturer in the world. Since 1946, East Penn has been manufacturing high quality Deka Batteries. The complete line of Deka stationary batteries by East Penn provides dependable, reliable power for a wide variety of applications including Telecommunications, Uninterruptible Power Supplies (UPS), Utility, Oil & Gas, Emergency Standby Applications and many others. Power Range: 30 to 2000 Amp Hours.
Deka/Unigy Batteries: 12AVR1 00-3ET, 12AVR100 UNIGY I, 12AVR100 UNIGY I, 12AVR30 UNIGY, 12AVR30C UNIGY I, 12AVR40 UNIGY I, 12AVR75 UNIGY I, 12GVR100 UNIGY, 12GVR75 UNIGY I, 3-96085-195 UNIGY II, 3-9VR85-17S UNIGY II, 3-9VR85-23S UNIGY II, 3-AV685-33S UNIGY 8, 3-AVR85-21S UNIGY II, 3-AVR85-25S UNIGY II, 3-AVR85-27S UNIGY II, 3-AVR85-29S UNIGY 8, 3-AVR85-31S UNIGY II, 6-96675-15S IJNIGY II, 6-AVR75-13S UNIGY I, 6-AVR75-5S UNIGV, 6-AVR85-11S UNIGY II, 6-AVR85-15S UNIGY II, 6-AVR85-7S UNIGY II, 6-AVR85-9S UNIGY II


NorthStar
Founded in July, 2000, and have grown to hundreds of employees doing business in over 120 countries
5 core values that they pursue; Innovative technology, Lowering the Total Cost of Ownership, Delivering above Expectations, Thinking Green Every Step of the Way, and Customer Loyalty
NorthStar is a global leader in designing, manufacturing and deploying an innovative range of batteries and power solutions. The company was established in 2000 by a group of experts in the lead-acid battery industry, who together hold more than 100 years of experience. NorthStar products are so reliable and cost effective they are used in more than 120 countries.
 NorthStar employs over 500 people worldwide, with headquarters in Sweden and major operations in the USA and China. NorthStar also has global distribution and service centers, which include Panama, Indonesia, Dubai and Singapore.
NorthStar Batteries - NSB13, NSB40, NSB70, NSB75, NSB90, NSB125, NSB40FT, NSB60FT, NSB90FT, NSB92FT, NSB100FT, NSB110FT, NSB130FT, NSB155FT, NSB170FT, NSB100FT, NSB170FT, NSB2-400, NSB60FT, NSB92FT, NSB100FT, NSB150FT, NSB180FT, NSB12-180, NSB12-300, NSB12-400, NSB12-540

C&D Technologies
Over 100 years old and focus remains in the Telecommunications and Data Transmission arenas.
They offer a wide range of technologies; from Flooded to VRLA to Spill containment solutions.
C&D Technologies, Inc. is a global leader in solutions and services for the switchgear and control (Utility), telecommunications, and uninterruptible power supply (UPS) applications. C&D Technologies engineers, manufactures, sells and services standby batteries for regulating and monitoring power flow and providing backup power in the event of primary power loss until the primary source can be restored. C&D Technologies is headquartered in Blue Bell, PA.
C&D Batteries: TEL12-30, TEL12-30-S, TEL12-30SLC,TEL12-30CCD,TEL12-45,TEL12-45-S, TEL12-45SLC, TEL12-70, TEL12-70-S, TEL12-80, TEL12-80-S, TEL12-90, TEL12-90-S, TEL12-105FS, TEL12-105FS-S, TEL12-125, TEL12-125-S, TEL12-160F, TEL12-160FW, TEL12-170F, TEL12-170F-S, TEL6-180, TEL6-180-S, TEL12-180F

HAZE Batteries USA
Headquarters in Europe, facilities in China, offer a wide range of batteries at competitive pricing
Passed recent Chinese Government check of lead environmental restrictions
HAZE Battery Company was born of a mixture of Western technology and Eastern work ethic, Western quality concepts with Asian cost effectiveness. The company's products cover a full range of 2, 4, 6 and 12 Volt VRLA Batteries in Absorbed Glass Mat (AGM) and Gelled Electrolyte.
The company philosophy is to focus on the actual and implied needs of the customer, supplier, the employees and the environment. Our ever expanding product range provides the solutions to the ever-changing requirements of the market place. A design service can provide cost effective tooling for customers individual requirements, resulting in the market advantage our customers need to develop their own business.
HAZE Batteries:: TEL25, TEL30, TEL45, TEL70, TEL80X, TEL90, TEL125, TEL15T, TEL40T, TEL60T, TEL60F, TEL100F, TEL105F, TEL145F, TEL150F, TEL185F, TEL200, 7' X 23" RACKS AND TRAYS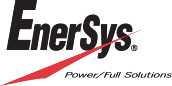 Enersys
EnerSys, the global leader in stored energy solutions for industrial applications, manufactures and distributes reserve power and motive power batteries, battery chargers, power equipment, battery accessories and outdoor equipment enclosure solutions to customers worldwide. Motive power batteries and chargers are utilized in electric forklift trucks and other commercial electric powered vehicles. Reserve power batteries are used in the telecommunication and utility industries, uninterruptible power supplies and numerous applications requiring stored energy solutions including medical, aerospace and defense systems. Outdoor equipment enclosure products are utilized in the telecommunication, cable, utility and transportation industries and by government and defense customers. The company also provides aftermarket and customer support services to its customers from over 100 countries through its sales and manufacturing locations around the world.
Energsys Batteries: 12V30F, 12V38F, 12V62F, 12V92F, 12V100FC, 12V101F, 12V125F, 12V155FS, 12V170FS, 12V190F
Battery Spill Containment Solutions
Get all your spill challenges solved with our full range of Spill Containment Solutions. From absorbents and neutralizers to full self-contained Spill Kits, you can rest assured we can solve your problems. All of our spill products meet or exceed EPA and UFC standards, and represent some of the best technology the industry has to offer.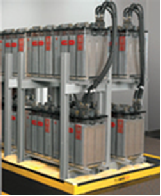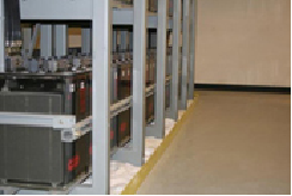 When it comes to fulfilling all of your battery needs, make Diversitec your solutions provider…
DC Power & Batteries - Resources
Are you looking for more detailed information? Check our Resources page for our DC Power & Batteries (brochures, specs, dozens of PDF files available for download, etc.)...